Workover Rig Cost in Zapata, Texas
Workovers are the most common expenditure operators need on their oilfields. However, finding a service provider and getting their rates are not readily available in the industry. Operators would benefit from knowing the market average for a workover and gain reassurance they are getting a fair price for their services. This research is based on finding workover rigs for Zapata, Texas. The graph represents four service provider companies and their hourly rate for a workover rig.
It is important to note that due to slower oil development in recent years from the downturn in 2015 to the pandemic and downturn in 2020, smaller workover rig companies in Zapata, Texas have increasingly moved to the Permian Basin or have been acquired by larger service companies in the area. This has caused the workover rig service industry to be dominated by a few major servicers around Zapata. For Zapata, the ideal areas to look for servicers or workover rigs are Alice, Laredo, and Freer in Texas.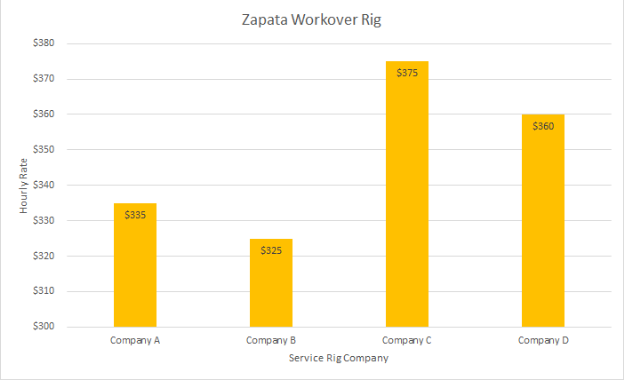 The hourly rates found are $335, $325, $375, and $360 creating an average rate of $349. Company names are replaced with Company A, B, C, and D. These companies were located in Freer and Alice for this research because the market synopsis revealed they offered more affordable rates than the servicers in Zapata.
Service Company and Rates
In order to preserve business integrity, the names of the companies on this list have been replaced. Contact Petrofly to request company information.

| Service Company | Hourly Rate | Location |
| --- | --- | --- |
| Company A | $325 | Alice, TX |
| Company B | $335 | Freer, TX |
| Company C | $375 | Freer, TX |
| Company D | $336 | Alice, TX |
Hourly rates for workover rigs vary and there are always competitors for services, especially for services as common as a workover rig. The market average price for a service provider is intended to provide the oil and gas operator better insight on the cost of services around their area.
An operator who wanted bids on a workover for his well requested this vendor list and decided to get connected with Company B to get the work done. He said it was a quick decision because what he was already paying for and what he was going to pay for cost more than the rates on this list.
In order to help oil and gas operators reduce operational expenditure, Petrofly researches the servicing market to provide the most economical options for your oilfield service needs. Petrofly's platform is the complete upstream solution and leveraging the market average is one of the unique tools operators utilize to ensure lower operational costs.